Happy New Year 2014
To celebrate, here's three novel pages to ring in the New Year!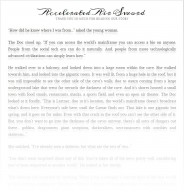 ---
Also, check out the Heaven Sent Version of The Bible. The first few chapters of the HSV are now up.
---
AND: our comics and videos will be back VERY SOON!
That includes, a schedule of daily comics, novels, video, and other web entertainment.
Mario is also recording his first album, hopefully it will be out in the coming months.