Happy Birthday Isabel 2019!
We're blessed to have the talented artist Isabel Ruiz Lucero as the cofounder of our team.
Soon we will begin blogging the efforts she's meticulously produced, for the relaunch of our many projects. Our artist's brilliant redesigns, for the future creations for our backcatalog library. This will be keep our beloved supporters and fans in the loop, and give us our best foot forward in bringing our classics into the next decade.
Our team is preparing for our next project, which will launch next year. It is beyond our current arts and media realm. We've never been too keen on ads or forcing a payment model, and while we support our fellow media cohorts doing so, this next project will help us find ourselves in a unique and more eco-friendly way.
This post was posted on March 30, 2019, and will be was edited and updated sometime tomorrow (March 31, 2019), with some traffic stats and even updates about our current staff. That silly featured picture comes from Isabel's Snapchat. https://www.snapchat.com/add/cinnamonbell
– The Heaven Sent Gaming team
---
Here is our Q1 2019 (ending March 30) Report for Heaven Sent Gaming's endeavors.
---
Unique Visitors
January-March
According to Cloudflare, maximum of 2,860~ & Minimum of 1,390~
per day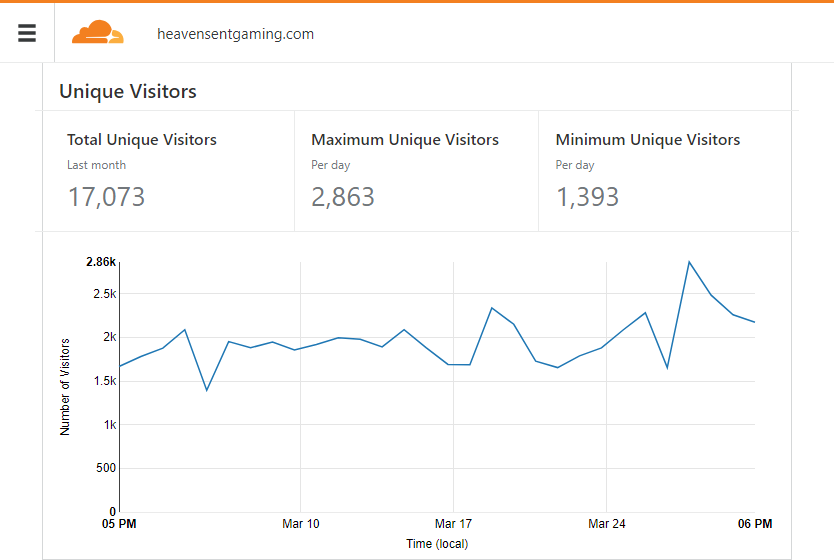 ---
Top 7 Countries
United States
South Korea
Germany
Mexico
Canada
China
United Kingdom
---
Top 7 American Metropolitan Areas (by unique users)
Albuquerque-Santa Fe, New Mexico
Hartford & New Haven, Connecticut
Orlando-Daytona Beach-Melbourne, Florida
Los Angeles, California
New York, New York
Denver, Colorado
Washington D.C.
---
Top 7 American Cities (by unique users)
Cheshire, Connecticut
Albuquerque, New Mexico
Ormond Beach, Florida
New York, New York
Houston, Texas
Ashburn, Virginia
Santa Fe, New Mexico
---
Top 7 International Cities (by unique users)
Muju-gun, South Korea
Munich, Germany
Zürich, Switzerland
Toronto, Canada
Ciudad Juarez, México
Kurashiki, Japan
Osaka, Japan
---
Top 7 International Cities (by page views)
Maisons-Alfort, France
Westminster, United Kingdom
Beijing, China
Osaka, Japan
Coacalco de Berriozábal, Mexico
Lahore, Pakistan
Pasig, Philippines
---
Worldwide Top 7 Viewed Titles
Heaven Sent Gaming (homepage and glossary)
New Mexico Cultural Encyclopedia, Lexicon, and News
Thad's World Destruction: Before Destruciton
---
Worldwide Top 7 Posts
---
Other Stats
Twitter followers: 9,100~
---
Top Crawlers
Bing
Baidu
Google
Yandex
Twitter
---
Our traffic is aggregated from multiple professional platforms, including CloudFlare, Google Analytics, and Quantcast. From the dates of January 1, 2019, until March 30, 2019.
~ indicates a rounded down approximate number.